DoubleVerify COO to Step Down – Daily Research News Online – Daily Research News Online
In the US, digital media measurement and analytics firm DoubleVerify (DV) has announced that Chief Operating Officer Matt McLaughlin plans to step down in the summer, after more than a decade in the role, to 'start a new phase in life'.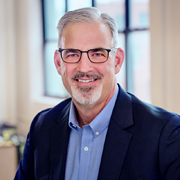 Acquired by private equity firm Providence Equity Partners in 2017, DV offers MRC-accredited software that verifies the quality and effectiveness of digital ads. Its DV Authentic Impression solution provides clients with a single KPI to ensure each ad impression is viewable, fraud-free and meets brand safety requirements; and the firm also offers a suite of media authentication services called IQ Advanced Solutions, to increase the transparency and performance of video and display advertising across mobile and desktop platforms.
McLaughlin (pictured) joined in 2011, from digital marketing company CUnet, where he served as President and COO, before which he was General Manager of Audience and Media at BDMetrics. Earlier, he held senior positions at performance marketing agency Performics; new media solutions firm Heavy Hammer; and Advertising.com; and he was a Consultant at Oracle Corporation.
McLaughlin will continue in his role as COO and lead his current areas of responsibility until the end of the first fiscal quarter, and he will then serve in a special advisory capacity to the company until July 1st 2022, managing certain product development initiatives and ensuring a smooth transition. CEO Mark Zagorski comments: 'Matt has been a valued leader at DoubleVerify for over a decade and integral to the success of the company. Matt is ready for the next stage of his personal endeavors and professional career, and everyone at DV is grateful for his contributions in building the initial foundation of our business and inspiring our legacy of innovation'.
Web site: www.doubleverify.com .